The Backdoor Men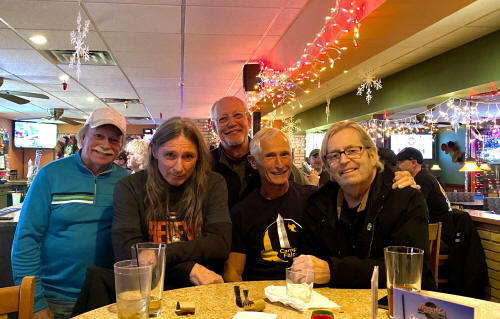 Surviving members of the Backdoor Men gathered in the fall to
remember the late Terry Hartman, a founding member of the band and perhaps Cleveland's greatest songwriter ever. Terry passed away in August 2021. From left, Dale Crockett, Dan Cook, Paul Nickels, Chris Cook, and Dave Borucki (AKA Dave Blaze).
Read a tribute to Terry here.
* * *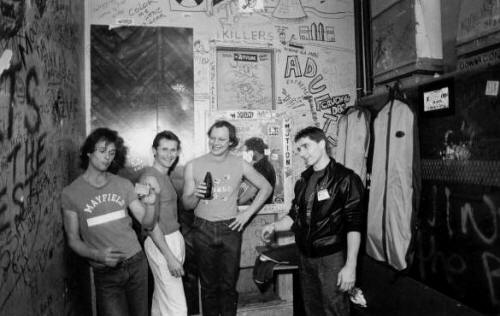 Please note: If you're a deep diver into the history of bands
like The Backdoor Men, click here to read an exhaustive history.
* * *
The Backdoor Men were first envisioned in the mid-1960s by the childhood friends Dan & Chris Cook (yes, brothers) and Terry Hartman, all of Fairview Park and all in the throes of an obsession kicked off first by the British Invasion and later fueled by the Byrds, Bob Dylan, and both urban and country blues. By the time the boys launched themselves onto Cleveland's original music scene in 1977, they had twisted these influences into a repertoire of a couple dozen originals in the "nuggets" psycho-garage mode to go along with their selection of British Invasion, American Psychedelic, and New York/Detroit "underground" covers.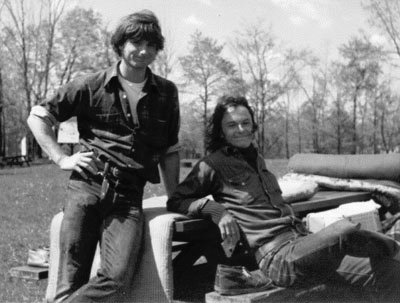 Dan Cook and Terry Hartman, circa 1974.
The band didn't boast extreme musical talent, but from from a songwriting perspective, they ruled. Terry Hartman and Dan Cook, separately and together, wrote prolifically and thoughtfully. Both shared similar roots in folk and country blues, and they later drank deeply from the well of the British Invasion. But their true common ground was in the brilliant sixties work of Bob Dylan.
Initially, the boys in BDM found it difficult to crack the Pirate's Cove, which was the center of a scene that included contemporaries such as Pere Ubu, The Dead Boys, and many others. Their solution was to start their own alternative showcase just down the street in a dingy bar called Fitzpatrick's Rainbow. Soon the lads were booking a slew of acts to accompany them in their weekly appearances in the small but perfectly-vibed venue.
Bands like the Kneecappers, Lepers, x-blank-x, Heironymous Bosch, Public Enemy and more suddenly had a new place to play, albeit mostly to friends and fellow musicians, and to develop their material in a friendly setting.
The boys were also among the inhabitants of cheap rehearsal space in Cleveland's then-moribund Warehouse District. First they shared space with associates of the Dead Boys on West Sixth St.; later, after suffering through numerous break-ins, they took over a huge loft on West Ninth St., which they sublet to several other bands and was the site of much drunken revelry. (It also featured on its first floor a small tavern called the Lakefront, where they would play a few years later.)
Soon Dan Cook, a journalist by the harsh light of day, had launched a publishing venue with the notorious VELAND magazine, his answer to the sporadically published (though informative) CLE. VELAND took the piss out of virtually EVERYONE, from the rotund David Thomas to the geeky but brilliant Andrew Klimek, and fueled a good battle between Fitzpatrick's and the Cove, which eventually relented and began to book the Backdoor Men.
The Backdoor Men played virtually every venue available between Youngstown and Toledo and all points in between 1977 and 1980. All the while, Cook and Hartman continued writing prolifically. From the neo-psychedelia of Hartman's "Bomber's Moon" and Cook's "Neutralizer," the boys progressed through offbeat pop takes like Hartman's "Handicapped Kids" and Cook's "Bad Girl" to such timeless gems as Hartman's "Life" and "Literary Tradition," and Cook's "Ain't No Magic" and "Club Madrid."
In all, Cook and Hartman, occasionally aided by Chris Cook, generated more than 100 fully realized originals, a number of which were covered by other area bands in need of material.
As 1980 drew to a close, Terry Hartman - a man who took songwriting VERY seriously - was chafing to take full control, and parted amicably with the Cooks to form Terry & The Tornadoes. The Tornadoes were short-lived but critically acclaimed, and were indeed the Cadillac Fleetwood that finally realized fully the extent of Hartman's songwriting abilities. During this period, Hartman teamed with Jimmy Zero and Johnny Blitz of the Dead Boys to record two of his originals for a single on Bomp Records, "Man with the X-Ray Eyes" b/w "Down with the Lonely Boys," but Bomp foundered and the single was never released.
The Backdoor Men soldiered on, working as Bomber's Moon, self-releasing a 45, and generating even more material. Hartman eventually did return, and with the Cook Brothers and BDM drummer Paul Nickels, formed the band that was to be their swan song, Napoleon in Rags. (They briefly called themselves the Blue Marlins.) Cook and Hartman put together a fresh batch of material, honed it to perfection, played out for a year, and then, like so many others of the era, appeared to disappear into the mists of time, circa 1987....
...Until 2004, when, goaded by the drummer of all people, they released the acclaimed "Mohawk Combover," heralded as one of the great comebacks in Cleveland punk history.
(Read more below.)
With an album completed, the boys finally went their separate ways. Terry Hartman eventually joined with Northeast Ohio songwriter Frank Secich of Blue Ash fame to form The Deadbeat Poets, which released a number of highly regarded albums and toured both America and Europe. Dan Cook plays in a variety of musical entities in Portland, Oregon, where he has lived for a number of years. Nickels went on to play in several Cleveland bands, including Inner Ring Conspiracy, The Clifton Beat, and The Old Brown Shoe Revue, and developed a passion for recording that led to the creation of Handsome Studio in Bay Village, Ohio.
Backdoor Men Music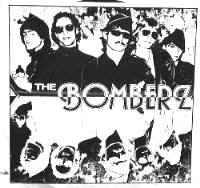 The Backdoor Men and their related progeny made a LOT of music - well over 100 songs. The vast majority of it exists on crappy cassette tapes that were later digitized by Nickels and distributed far and wide. They did release one 45 rpm record in the early eighties, when that's what you did. The record was under the moniker "The Bomberz," an inexcusable shortening by Dan Cook of the "Bomber's Moon" name they had been working under. The band was never called the Bomberz, which is in pale imitation of Bomber's Moon. (What is a Bomber's Moon, you say? Rumor has it that it was a World War II term decribing the perfect night for a bombing run over Germany - a full moon in a clear sky that perfectly illuminated the ground targets. Yikes. The single included two songs co-written by Dan Cook with Jimmy Juhn, which in that sense made it not really a Backdoor Men record, as that would have to include something written by Dan Cook and/or Terry Hartman. It was a decent pair of songs, recorded pretty poorly at a fly-by-night studio on Lakewood Heights Boulevard.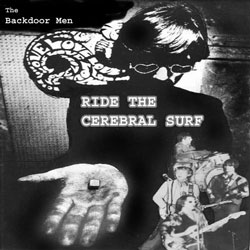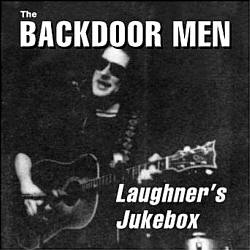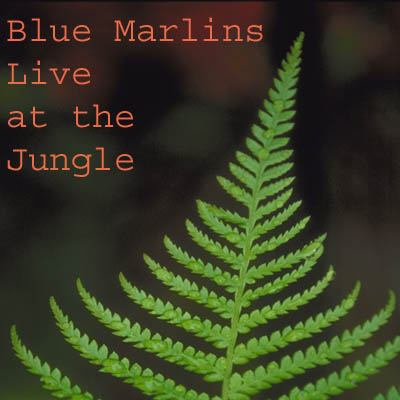 Handsome Productions digitized a lot of their material in the late 1990s and the demand for the resulting CDs was surprising. Pictured above are three - "Ride the Cerebral Surf" featured a slew of their early psychedelic pop originals.Laughner's Jukebox was an album of their favorite covers. (The title dates to a conversation with a local rock critic, which resulted in a review noting that the band's selection of covers might have come from "Peter Laughner's Jukebox." "Straight Outta Fairview" was a record recorded properly in the 1980s featuring the final major collaborative period between Terry Hartman and Dan Cook. At that time, the working name had switched to Napoleon in Rags.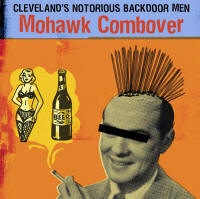 Later, years after the Backdoor Men had turned in their badges and gone home to sober up (relatively speaking and raise families, the lads decided to go into a proper studio and make a proper record. The result was "Mohawk Combover," a raucous, sprawling mess of a record featuring great writing and (some) inspired playing by the Cook and Hartman, who were accompanied by Nickels and brother Chris Cook, along with a number of sideman. The record was a surprising success, well received by critics in America and even Europe.
Here's a selection of those reviews: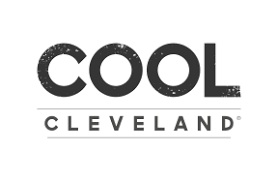 For aging punk bands, reunions are a dodgy business. It might smack of age-ism, but the fact is, punk rock is a young man's (or woman's) music, and for those looking the half-century mark in the eye, making snotty, pissed-off songs can seem just a little ridiculous. That's not to say that reuniting an old band is a guaranteed failure, but more often than not, the resulting gigs and records are far less satisfying than what came out of the old days. Luckily for the Backdoor Men, a Cleveland garage-punk five-piece that did the rounds of the city's dive bars between 1977-87, passing time has not diminished its spirit, and years of experience have largely failed to hone its members playing into something too slick for rock and roll. And unlike some "geezer acts," who attempt to ignore the effects of time, the band openly mocks its status as elder statesmen, titling its reunion disc Mohawk Combover, which shows that twenty-five years after the band's initial dissolution, their tongues are still planted firmly in cheek. Mohawk Combover is a mixed bag, a scattershot collection of songs reflecting the band's rather diverse songwriting range.

There are classic Cleveland style punk tunes, like "Cultural Insanity," that fit neatly next to their contemporaries the Dead Boys and Rocket from the Tombs - all Raw Power riffage and Rust Belt loathing, there are songs with a blues influence, rife with slide guitar, and there are blasts of pure garage rock. "Not Fed Up With You Yet" comes complete with squalling Farfisa and tons of fuzz, but that's the problem - it's far too stereotypical a garage sound. Better is the following track, "Bus Station Gyration," which shoots for the Yardbirds vibe, but ends up more like the Count Five - good classic garage rock was all about trying and failing to sound like your heroes. On tracks like "F*ck the French" and "Sh#t Outta Luck" the band gets in trouble; it is simply not becoming for grown men to take part in such juvenile rants. The Backdoor Men, despite their punk roots, do best when sinking their teeth into more "mature" sounds, like the melodic, harmonica-laced Americana of "Pure Heart." Still, the disc is a fine testament to a band that, unlike so many of its compadres, survived to tell the tale of its wild youth and create music that echoes its original sound without slavishly re-treading old ground, and for long-term fans, there is a present - the bonus track is an appropriately muddy live rendition of "Eve of Destruction" recorded at Fitzpatrick's Rainbow in 1977. From the lack of crowd noise, it sounds like there were about a dozen people in the room. Hopefully, the next time the band decides to grace a Cleveland stage, there will be a warmer reception.


European Music Magazine
Cleveland's notorious Backdoor Men, who struggled through the underground rock scene of the mid to late 70s, have handed fans of indie rock a treat with the issuance of a reunion CD, Mohawk Combover. The CD is a dynamic burst of true punk. Now, don't let my use of the word punk mislead you. You won't hear the traditional "punk" sound dominating here. This is punk in the truest sense, just plain old raw, indie, straight up rock from the underground. Styles vary (you'll hear 60s flavor keyboard psychedelic garage rock, for example) - this is not a solid cd of one punk song after another, all sounding the same. This is classic, tasty garage sounds from a band that loves what they used to do (and did again).

Tired of new bands who only know how to slavishly ape the Stooges and the Velvets? Then this long-awaited new 40th anniversary album by Cleveland's legendary Backdoor Men is for you because Mohawk Combover takes its retrofitted satirical musical cues from the likes of Alice Cooper ("Take Me Away"), the Stranglers ("Not Fed Up With You Yet") and even the Dictators ("Bus Station Gyration").

Even better, they have the respectfully acute sense of history to cover a song written by one of their legendary old pals, the late Peter Laughner. Not only does Laughner's "I'm So F#cked Up" get the full Huey Lewis And The News treatment, he also gets a dedicatory nod for being one of the founding fathers of Cleveland rock—a scene Laughner helped create in his spare time when he wasn't busy writing record reviews for CREEM.

And if you're not sure what inspirational two-tub lyrics like "San Francisco, cans of Crisco" mean, don't worry because the little girls understand and they're all going down under the thunder of the Backdoor Men.

Handsome Jeff Morgatoba

,

June 2004


Wednesday, May 26, 2004
Led by singer-guitarist Dan Cook and singer-guitarist Terry Hartman, the Backdoor Men recently reconvened to record 12 new songs and a handful of covers at Don Depew's 609 Recording studio in Bedford. Originally formed in 1977, the Backdoor Men played the same circuit as the Dead Boys and Pere Ubu but never got the same notoriety. This disc suggests the guys got shortchanged. Without following predictable punk patterns, Mohawk Combover features the wide-ranging songwriting talents of Cook and Hartman. They're all over the map, recalling Velvet Underground art punk ("Everything is Killing Me (And There's Nothing Worth Dying For)" and Pagans-like despair ("Shit Outta Luck") while branching out into the blues ("I'm So Fucked Up") and garage rock ("Not Fed Up with You Yet").

Nothing worse than sitting at a bar next to some kid explaining how punk these days is great. Yeah, right, some tattooed, dreadlock-head screaming over heavy metal that sounds like Metallica on steroids. So you try to explain how punk started in the 1970s, full of this radio-music-sucks, my-life-sucks vibe that brought about three-minute songs that kind of sucked in a good way. The kid looks at me the same way I looked at my dad when he talked about '50s-era Sinatra.
What I can't tell the kid is what it was like growing up in Cleveland, Ohio in the 1970s. Too weird. Reacting to stagnant music and rust belt depression, bands like Rocket from the Tombs, The Dead Boys, Pere Ubu, Tin Huey, and Devo created an industrial garage rock that would eventually influence bands like The Ramones and The Talking Heads. The Cleveland punk sound was "young, loud, and snotty," a peculiar mix of techno-pop, searing and fast guitar riffs, and wailing vocals.
One punk/pop band that played in Cleveland without much notoriety back then was the Backdoor Men. They were a decent bar band, but they never broke out. The Backdoor Men started in 1977, put out a few albums, and were gone by 1987.
So what do old punks do decades later, now that they're in their 40s and 50s? The Backdoor Men have decided to write 16 new songs in the "life-sucks" genre, brought up to date. Think life stunk in your 20s? Well, think again, middle-age guys. Mohawk Combover is testimony to the fact that dealing with crappy jobs, wives who can't stand you, and rotten teenage kids is worse. And all done with strong, punk music that is more inventive than the original style.
Singer/guitarists Dan Cook and Terry Hartman drive Mohawk Combover all over the place. "Pissin' blood and puking bile / Teenage kids are running wild," Cook wails in "Shit Outta Luck." A depressing ballad called "End of the Line" speaks of a bad marriage: "I'll break you down, you wait and see / And drag you down right with me." In another bad relationship song "Not Fed Up with You Yet," the solution is "just bring me a beer and a cigarette / 'Cuz I'm not fed up with you yet."
Not that all on Mohawk Combover is angry and depressing. "Fuck the French" is fast and snotty, "Oklahoma Jack" is ludicrous (" San Francisco / Cans of Crisco" is the chorus), and "Bus Station Gyration" pokes obscene fun at musicians. What the Backdoor Men have done is bring back a sound that grabs you and shakes you no matter how old you are. Some young people might think that the lyrics ain't for them. My reaction to that is from my-life-sucks past and present viewpoint. Who cares what you think, you little punk pretender? And buy me a beer and I'll tell you more bad stories.

www.uttertrash.net
Here's more proof that the old punks can still write better songs than almost any of the young bands running around these days. The Backdoor Men date back to the late seventies Cleveland punk scene. Like a lot of area bands from that time period, they kicked around for a few years and then broke up, influencing a few other local musicians but, for the most part, fading into obscurity. At the turn of this century, the guys decided they wanted to play together again, and ultimately wrote about 30 new songs, 16 of which are on this disc. With their garage rock influences (something they had way before it became trendy), the band actually sounds pretty up to date. The songs are simple but played and arranged well, and the vocals are distinctive and melodic. This band is about having fun, so nothing too weighty in the lyric department. They descend into novelty tune territory with "Fuck the French", but otherwise they avoid becoming a joke band. Overall, the Backdoor Men are somewhere between bands like The Rubber City Rebels, Rocket From the Tombs, New York Dolls, etc. and sixties garage rockers like Them, The Sonics, or The Thirteenth Floor Elevators. If that sounds good to you, check this out. (Bob Ignizio)
Actual Backdoor Men Music
Many of the Backdoor Men's recordings, including a limited number of Mohawk Combover, are available on the Handsome Store page.
The Backdoor Men in Pictures and Art


Mike Steinberg, Photographer Extraordinaire
& Great Friend to the Backdoor Men.

To say the Backdoor Men were the target of many camera lenses may be the understatement of the day. Perhaps it was their classic good looks, but many an aspiring photographer enjoyed shooting the band, whether playing live, hanging out, or in the studio. Of particular interest is the work of Mike Steinberg, who was the real deal and is now retired.

Additionally, BDM engaged in the primitive graphic design work that pervaded the "punk" era in Cleveland, to occasionally humorous ends. Enjoy the many faces and presentations of Cleveland's notorious Backdoor Men.

Click on any of the thumbnail versions below to view a larger picture

.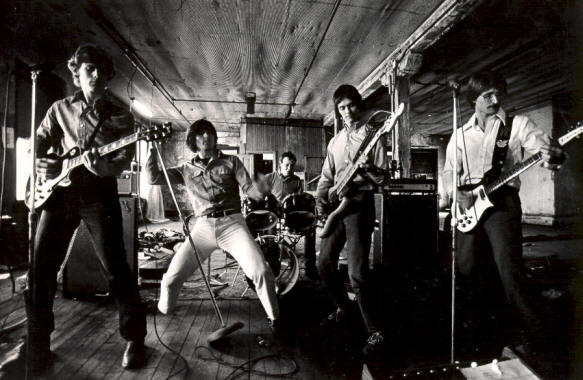 * * * * *
All contents © Handsome Productions, 2021. May be used with permission.