Inner Ring Conspiracy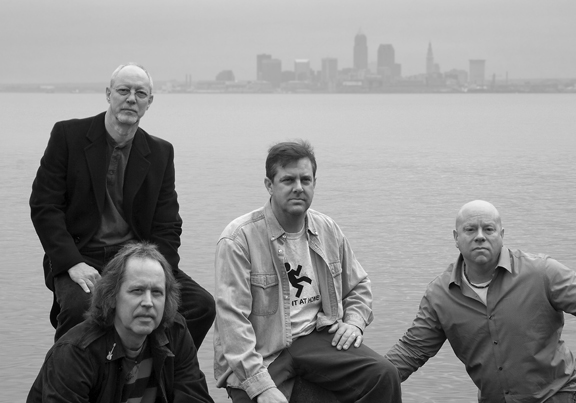 So what compels four, middle-aged guys to embark on an original music project, replete with weekly practices, selling & playing gigs and recording? For 40- & 50-somethings with families, putting forth effort to play in a band has seemingly more downsides than upsides. Spouses are thinking you are losing it (at least at first), your kids are thinking you are way not cool (this doesn't go away) and many others are wondering "Why are you doing this?!" Many assume that I am going through a midlife crisis. Maybe so, but I don't know how to shake it if that's the case. And then there is the constant struggle to fit weekly practices among other workplace and personal priorities.
The upsides? For us, writing and playing music is not just fun - it's sort of a calling, an itch that needs to be scratched; it's even cathartic. I feel most healthy when I'm playing music.
With that said, Inner Ring Conspiracy was formed in the winter of 2010-11 by Lakewood residents Mark Bluhm (bass), Paul Nickels (drums), Tim Pursifull (lead vocals) and Bill Rouse (guitar). As musical genres go, we play "power-pop". Our music is bona fide electric rock music, with writing influences ranging from Buddy Holly to the Rolling Stones to the '90s Seattle sound. We ride that fine line of taking our music seriously while trying not to take ourselves so. I love the question, "Are you any good?" We think so, but of course we better think that. But you can decide for yourself. Come see us! -- Bill Rouse
* * *
That was Rouse's take. And it was pretty damn accurate. IRC, for short, had a damn good run. The band was formed when Nickels was approached by Rouse to digitally transcribe a live tape from his prior cover band, "Dead Celebrities," in which Tim Pursifull also performed as lead singer. Nickels was quite impressed with both the guitar work AND the powerful vocalist, and approached Rouse about whether he'd be interested in forming a band and performing originals... Bill was intrigued. The band started by learning some old Backdoor Men standards from Nickels, while Bill and bassist Mark Bluhm, also a veteran of cover bands, discovered their inner songwriters. The boys quickly put together a great set of originals, augmented by some covers.
They were heady days! The band played some memorable gigs in numerous Lakewood pubs, to large, enthusiastic clubs. Eventually, things became more difficult when lead singer Pursifull found himself in a job working extremely long hours as a restaurant manager, and eventually had to pull away. But the band left a gift for its fans. A couple years in, they recorded "Gray Day in Cleveland," a fine collection of power pop originals put down in Nickels's attic in Lakewood. The record was quickly snapped up by the band's fan base, and very few copies remain. The record featured originals by Rouse and Bluhm, along with a contribution from Nickels and an old chestnut from Backdoor Men writer Dan Cook.
Inner Ring Conspiracy was highly successful in its original goal: To unleash the songwriting talents of Bill Rouse and Mark Bluhm! Both continue to write and record with Nickels.
Because it's just about impossible to lay hands on an original copy, feel free to steal the songs. To save them, right click on a title and find your particular "save as" command, or just click on them in normal fashion to listen now.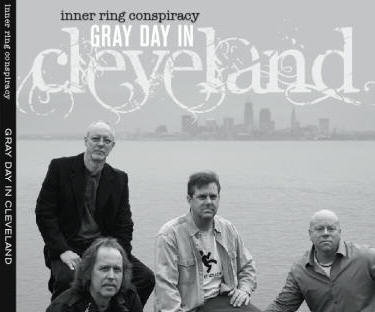 Well of Rage
I'm So Mad
To Love Somebody
Tell-Tale Heart
Gray Day In Cleveland
It Goes So Fast
Hear Me Calling
For My Dad
Too Much Drama
1,000 Miles Away
Little By Little
Along the way, a fan decided to make a video for the Mark Bluhm's song, "Telltale Heart." We were deeply appreciative of his effort, and the video is darn good! Here it is...
* * * * *
All contents © Handsome Productions, 2021. May be used with permission.