Dee Deprator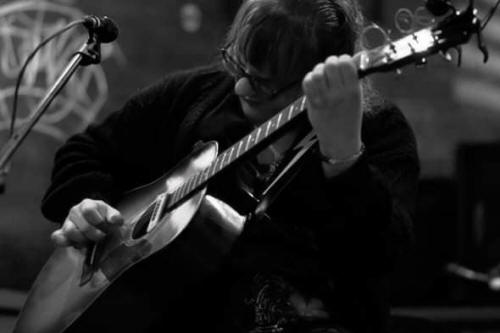 * * *
Dee Deprator, originally from Pittsburgh Pennsylvania, where she lived through her high school years, has been a Cleveland resident for about 20 years now. Dee is an incredibly talented acoustic and electric guitar player, and can also play virtually any stringed instrument, with the exception of violin. She is also an accomplished performer, writer, and recording artist, and a fixture on the Cleveland Open Mic scene. Dee also currently plays bass and guitar with Meg and the Magnetosphere, a popular Cleveland-based alternative rock band.
Dee and Handsome Productions
A number of years ago, Handsome proprieter Paul Nickels oversaw a small cottage industry of finding, preparing and disseminating Cleveland rock legend Peter Laughner to the small but eager worldwide audience that to this day remains fans. (Handsome is out of that business now; if you are interested in acquiring Peter's music, you want to go to Smog Veil Records.)
After meeting during the making of The Backdoor Men's "Mohawk Combover," to which Deprator contributed some key guitar work, Dee, long a Laughner fan, became a part of this, blending his own collection and that of Nickels, and eventually took the whole business over from Nickels, who had grown tired of packing envelopes with Laughner CDs and shipping them around the world. Dee of course eventually became tired of this as well (trust us), and turned over her collection to the good folks at Smog Veil, who have done a wonderful issue of the best of this material. Probably wouldn't have happened without Dee.
This wasn't the end of the relationship between Dee and Handsome. Dee eventually recorded two albums at Handsome Studio with Nickels on the dials, and also had a third album recorded elsewhere mixed by Nickels. He has also contributed to the records of other Handsome artists, including the Old Brown Shoe Revue and the Backdoor Men's later recordings.
Those records are available on multiple streaming services and can also be purchased through the Handsome Store.
In musical terms, there is one adjective that immediately pops into mind around Dee: ECLECTIC. Dee can freaking play anything. She's done glam (Tellers, Cobra Verde), heavy metal (Breaker, including one of their great annual gigs in Germany), and everything in between. She is also a living catalog of songs from the Rock Era, from prog to pop to alternative. But at heart, Dee is a blues person. In recent years, she's returned to her blues roots.
You'll find records by "Aunt Dee" on bandcamp here. Check them out. She's an unbelievably good guitarist and blues person.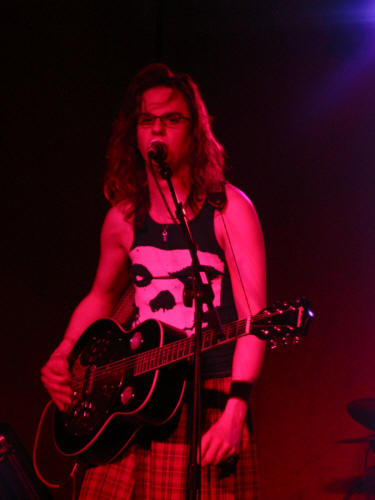 The young Dee Deprator.

* * * * *
All contents © Handsome Productions, 2021. May be used with permission.