Click here to return to the Handsome home page.
At the turn of the century, the Backdoor Men found themselves in the same room for the first time in many years. They quickly realized the flame was yet to be extinguished, and under the direction of producer Paul Nickels, they found themselves in the studio recording the record they had never made during their spotty career. Thus was born "Mohawk Combover," available here today. Though in many ways not really characteristic of the original Backdoor Men sound - it features excellent sonics and some playing that's actually good - it's a fucking good rock & roll record, and is available for purchase through PayPal for just $10, including shipping. Scan down the page to read a number of reviews of the record. Don't have PayPal? Send an email to paul@handsomeproductions.com and we'll figure something out.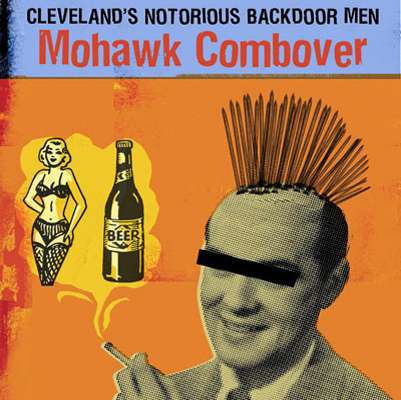 THE REVIEWS:
Cool Cleveland Sounds
The Backdoor Men
Mohawk Combover
Handsome Productions
For aging punk bands, reunions are a dodgy business. It might smack of age-ism, but the fact is, punk rock is a young man's (or woman's) music, and for those looking the half-century mark in the eye, making snotty, pissed-off songs can seem just a little ridiculous. That's not to say that reuniting an old band is a guaranteed failure, but more often than not, the resulting gigs and records are far less satisfying than what came out of the old days. Luckily for the Backdoor Men, a Cleveland garage-punk five-piece that did the rounds of the city's dive bars between 1977-87, passing time has not diminished its spirit, and years of experience have largely failed to hone its members playing into something too slick for rock and roll. And unlike some "geezer acts," who attempt to ignore the effects of time, the band openly mocks its status as elder statesmen, titling its reunion disc Mohawk Combover, which shows that twenty-five years after the band's initial dissolution, their tongues are still planted firmly in cheek. Mohawk Combover is a mixed bag, a scattershot collection of songs reflecting the band's rather diverse songwriting range.
There are classic Cleveland style punk tunes, like "Cultural Insanity," that fit neatly next to their contemporaries the Dead Boys and Rocket from the Tombs - all Raw Power riffage and Rust Belt loathing, there are songs with a blues influence, rife with slide guitar, and there are blasts of pure garage rock. "Not Fed Up With You Yet" comes complete with squalling Farfisa and tons of fuzz, but that's the problem - it's far too stereotypical a garage sound. Better is the following track, "Bus Station Gyration," which shoots for the Yardbirds vibe, but ends up more like the Count Five - good classic garage rock was all about trying and failing to sound like your heroes. On tracks like "F*ck the French" and "Sh#t Outta Luck" the band gets in trouble; it is simply not becoming for grown men to take part in such juvenile rants.
The Backdoor Men, despite their punk roots, do best when sinking their teeth into more "mature" sounds, like the melodic, harmonica-laced Americana of "Pure Heart." Still, the disc is a fine testament to a band that, unlike so many of its compadres, survived to tell the tale of its wild youth and create music that echoes its original sound without slavishly re-treading old ground, and for long-term fans, there is a present - the bonus track is an appropriately muddy live rendition of "Eve of Destruction" recorded at Fitzpatrick's Rainbow in 1977. From the lack of crowd noise, it sounds like there were about a dozen people in the room. Hopefully, the next time the band decides to grace a Cleveland stage, there will be a warmer reception.
from Cool Cleveland contributor Leslie Basalla lbasalla77@msn.com

European Music Mag
The Backdoor Men
Mohawk Combover
Cleveland's notorious Backdoor Men, who struggled through the underground rock scene of the mid to late 70s, have handed fans of indie rock a treat with the issuance of a reunion CD, Mohawk Combover. The CD is a dynamic burst of true punk. Now, don't let my use of the word punk mislead you. You won't hear the traditional "punk" sound dominating here. This is punk in the truest sense, just plain old raw, indie, straight up rock from the underground. Styles vary (you'll hear 60s flavor keyboard psychedelic garage rock, for example) - this is not a solid cd of one punk song after another, all sounding the same. This is classic, tasty garage sounds from a band that loves what they used to do (and did again).

Tired of new bands who only know how to slavishly ape the Stooges and the Velvets? Then this long-awaited new 40th anniversary album by Cleveland's legendary Backdoor Men is for you because Mohawk Combover takes its retrofitted satirical musical cues from the likes of Alice Cooper ("Take Me Away"), the Stranglers ("Not Fed Up With You Yet") and even the Dictators ("Bus Station Gyration").

Even better, they have the respectfully acute sense of history to cover a song written by one of their legendary old pals, the late Peter Laughner. Not only does Laughner's "I'm So F#cked Up" get the full Huey Lewis And The News treatment, he also gets a dedicatory nod for being one of the founding fathers of Cleveland rock—a scene Laughner helped create in his spare time when he wasn't busy writing record reviews for CREEM.

And if you're not sure what inspirational two-tub lyrics like "San Francisco, cans of Crisco" mean, don't worry because the little girls understand and they're all going down under the thunder of the Backdoor Men.
Handsome Jeff Morgatoba
June 2004

Wednesday, May 26, 2004
Backdoor Men
Mohawk Combover
Handsome Productions)
Led by singer-guitarist Dan Cook and singer-guitarist Terry Hartman, the Backdoor Men recently reconvened to record 12 new songs and a handful of covers at Don Depew's 609 Recording studio in Bedford. Originally formed in 1977, the Backdoor Men played the same circuit as the Dead Boys and Pere Ubu but never got the same notoriety. This disc suggests the guys got shortchanged. Without following predictable punk patterns, Mohawk Combover features the wide-ranging songwriting talents of Cook and Hartman. They're all over the map, recalling Velvet Underground art punk ("Everything is Killing Me (And There's Nothing Worth Dying For)" and Pagans-like despair ("Shit Outta Luck") while branching out into the blues ("I'm So Fucked Up") and garage rock ("Not Fed Up with You Yet").
— Jeff Niesel

The Backdoor Men
Mohawk Combover
Handsome Productions
Nothing worse than sitting at a bar next to some kid explaining how punk these days is great. Yeah, right, some tattooed, dreadlock-head screaming over heavy metal that sounds like Metallica on steroids. So you try to explain how punk started in the 1970s, full of this radio-music-sucks, my-life-sucks vibe that brought about three-minute songs that kind of sucked in a good way. The kid looks at me the same way I looked at my dad when he talked about '50s-era Sinatra.
What I can't tell the kid is what it was like growing up in Cleveland, Ohio in the 1970s. Too weird. Reacting to stagnant music and rust belt depression, bands like Rocket from the Tombs, The Dead Boys, Pere Ubu, Tin Huey, and Devo created an industrial garage rock that would eventually influence bands like The Ramones and The Talking Heads. The Cleveland punk sound was "young, loud, and snotty," a peculiar mix of techno-pop, searing and fast guitar riffs, and wailing vocals.
One punk/pop band that played in Cleveland without much notoriety back then was the Backdoor Men. They were a decent bar band, but they never broke out. The Backdoor Men started in 1977, put out a few albums, and were gone by 1987.
So what do old punks do decades later, now that they're in their 40s and 50s? The Backdoor Men have decided to write 16 new songs in the "life-sucks" genre, brought up to date. Think life stunk in your 20s? Well, think again, middle-age guys. Mohawk Combover is testimony to the fact that dealing with crappy jobs, wives who can't stand you, and rotten teenage kids is worse. And all done with strong, punk music that is more inventive than the original style.
Singer/guitarists Dan Cook and Terry Hartman drive Mohawk Combover all over the place. "Pissin' blood and puking bile / Teenage kids are running wild," Cook wails in "Shit Outta Luck." A depressing ballad called "End of the Line" speaks of a bad marriage: "I'll break you down, you wait and see / And drag you down right with me." In another bad relationship song "Not Fed Up with You Yet," the solution is "just bring me a beer and a cigarette / 'Cuz I'm not fed up with you yet."
Not that all on Mohawk Combover is angry and depressing. "Fuck the French" is fast and snotty, "Oklahoma Jack" is ludicrous (" San Francisco / Cans of Crisco" is the chorus), and "Bus Station Gyration" pokes obscene fun at musicians. What the Backdoor Men have done is bring back a sound that grabs you and shakes you no matter how old you are. Some young people might think that the lyrics ain't for them. My reaction to that is from my-life-sucks past and present viewpoint. Who cares what you think, you little punk pretender? And buy me a beer and I'll tell you more bad stories.

The Backdoor Men
Mohawk Combover
August 2004
All right, punk. You better get over here and listen to this reunion album by the notorious Backdoor Men. What's that? You never heard of 'em? Where you been, livin' under a rock or somethin'?
Well, maybe it has been 20 years or so since these participants in Cleveland's late-'70s rock scene disappeared after their first reunion, under the name Napoleon in Rags; which followed a split into two groups – Terry & The Tornadoes and The Bombers – after their first three years of existence. Are you following this?
Fact is they worked that town's punk circuit from 1977 to 1987 in one form or another, inspired by local acts the Dead Boys and Pere Ubu.
Now they're back, on disc at least, taking their second chance with a batch of new material that reflects all their phases and influences: punk, psychedelic, blues, garage and folk.
They've still got their chops – and their attitude. So check it out before I mess you up.
PETER HUND

pete@goodnewmusic.com

From clevescene.com
Originally published by Cleveland Scene Jun 02, 2004
©2004 New Times, Inc. All
rights reserved.
The Backdoor's Open
An infusion of energy from a young scenester revives a '70s punk band.
BY JASON BRACELIN
It's a sucker's bet if ever there was one. "Your odds are 1 in 10,000 in rock and roll," says Paul Nickels, drummer for the '70s punks the Backdoor Men. "At some certain point you hit the wall, you have babies at home, your wife is glaring at you every time you go out to rehearsal and come home drunk. And it just ends."
The end for Nickels came 17 years ago. He was 33 and had spent 10 years doing up to four sets a night at dives like Fitzgerald's Rainbow and Hennessy's, getting paid mostly in sore backs. His band's second-to-last show drew 18 people, its final gig fewer than 50.
And so Nickels settled down, had kids, watched his life unfold like a John Cougar Mellencamp tune. Then, two years ago, he got sick...
"I had to take a chemotherapy routine that lasted a year, and I knew I was going to be sick for a long time and I wasn't going to be able to do much," Nickels says. "So I got myself a new computer, and I went upstairs to my attic and got out this old tape box of the Backdoor Men, and I started going through it.
"I wound up making a couple of CDs of old Backdoor Men stuff. I sent it out to the boys in the band; they all got a big kick out of it. We thought, 'You know, let's make a record.'"
The punk dads quickly wrote a batch of new songs, but they were feeling their age by the time of their first rehearsal.
"We got scared," Nickels recalls over a Dortmunder at Sushi Rock, a cosmopolitan eatery where everyone seems to look better than you. "We thought, we have this great clutch of songs, but maybe we're not going to be able to pull this off. I think the turning point was when you came in," Nickels says, turning to the 24-year-old sitting to his right.
Derek DePrator, with his powder-blue Neil Young shirt, bright-green Chuck Taylors, and star earrings, makes an unlikely business partner for the now-recovered Nickels, who sports a thinning crew cut, wire-rim glasses, and a dark button-down shirt that covers broad shoulders. They came together over their shared admiration for deceased Cleveland-punk great Peter Laughner, late of Rocket From the Tombs and Pere Ubu.
Introduced to Nickels through a former bandmate of Laughner's, DePrator joined the Backdoor Men at practice and promptly laid down scorching slide guitar on the new cut "Bus Station Gyration."
"Here's this scrawny little kid, he plugs in his Telecaster and in one take does this jaw-dropping slide guitar," Nickels recalls. "We were inspired. We got pumped up, and from there it really took off."
The Backdoor Men recorded 24 songs and released the 16 best on Mohawk Combover, an album worth the decades-long wait. Abrasive and affecting, it pits sardonic blast-furnace punk ("Fuck the French") against nervy psychedelia ("Oklahoma Jack") and penitent balladry ("Pure Heart").
"This record doesn't sound like an old record; it just hearkens back to real rock and roll," says DePrator, a veteran of well-known Cleveland bands that include Cobra Verde, the Tellers, Pleasure Void, and the Atomic Crash.
Combover was released on Nickels and DePrator's newly launched label, Handsome Productions, which also dropped the Atomic Crash's When the Train Left the Station, an album of lo-fi country blues on which DePrator croons ruefully over guitars that ache like the best bee sting you've ever had.
But Handsome's biggest buzz has come from Nickels's previously unavailable recordings from Laughner -- an estimated 14 albums' worth of music, which will be released sporadically, along with work by promising local bands. The first Laughner album, Setting Son, is a sparse, personal collection, mostly recorded in Laughner's bedroom, with him introducing songs and playing mean slide guitar.
"Sometimes young talent needs that kind of direction, and that's what I would hope Handsome could do over time." Nickels says. "This is the guy that's in the scene -- I'm the old man sitting at home with the kids," he adds, nodding toward DePrator. "He can feed stuff into the label, we can get it into the market, do it all in Cleveland. That's what we would hope to be able to do, to help show people the way."

The Backdoor Men
Mohawk Combover
Here's more proof that the old punks can still write better songs than almost any of the young bands running around these days. The Backdoor Men date back to the late seventies Cleveland punk scene. Like a lot of area bands from that time period, they kicked around for a few years and then broke up, influencing a few other local musicians but, for the most part, fading into obscurity. At the turn of this century, the guys decided they wanted to play together again, and ultimately wrote about 30 new songs, 16 of which are on this disc. With their garage rock influences (something they had way before it became trendy), the band actually sounds pretty up to date. The songs are simple but played and arranged well, and the vocals are distinctive and melodic. This band is about having fun, so nothing too weighty in the lyric department. They descend into novelty tune territory with "Fuck the French", but otherwise they avoid becoming a joke band. Overall, the Backdoor Men are somewhere between bands like The Rubber City Rebels, Rocket From the Tombs, New York Dolls, etc. and sixties garage rockers like Them, The Sonics, or The Thirteenth Floor Elevators. If that sounds good to you, check this out. (Bob Ignizio)